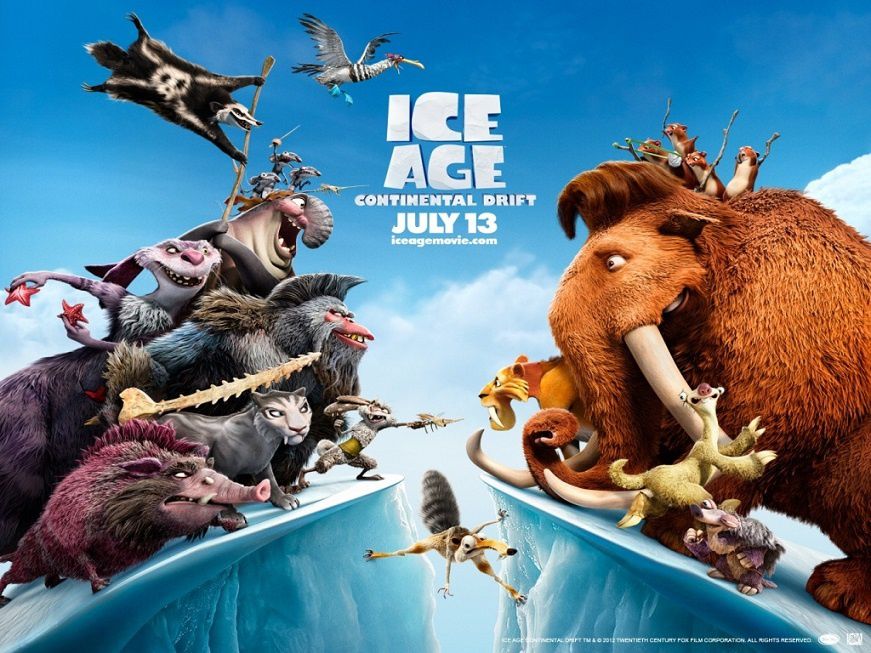 By Kimberly Gadette (doddleNEWS)
The prehistoric pals aren't as fossilized as we may have feared in this fourth installment of the "sub-zero heroes" coming together to once again save the world. While the story can't match the first chapter – a tusk-in-cheek reworking of the 1987 Three Men and a Baby, which in turn nodded to John Ford's 1948 3 Godfathers – this film still has some bite. Whether it's the addition of new writer Jason Fuchs, or a feat of cryogenics, ten years after Manny the Woolly Mammoth first lumbered across the screen, Ice Age: Continental Drift manages to stave off the stale.
That said, the opening doesn't exactly break new ground as it depicts saber-toothed squirrel Scrat doing exactly that. Because, via the marvel of film promotion, what we thought was a three-minute short entitled Scrat's Continental Crack-Up (opening 2010's Gulliver's Travels) was actually a lift from this film. The follow-up trailer to that trailer (hmm … promote much?) was another lift, Scrat's Continental Crack-Up: Part 2, accompanying 2011's Alvin and the Chipmunks: Chipwrecked. While Scrat's animated segments may be exceedingly clever … just like the Pleistocene era, they're old.
But on with the ice show. With continents dividing left and right, land masses falling into the sea and so forth, Manny (voiced by Ray Romano) is separated from his wife Ellie and teenage daughter Peaches (Queen Latifah and KeKe Palmer, respectively). At least he's got his two best buds, saber-toothed tiger/smilodon Diego (Dennis Leary) and ground sloth Sid (John Leguizamo), who finds himself recently saddled with his senile Granny (Wanda Sykes). On the way to survival, the fearless crew has to contend with drowning, sirens and a particularly aggressive group of pirates, kept under the evil opposable thumb of supersized primate Captain Gutt (authoritatively, maniacally voiced by Peter Dinklage).
Long-form cartoons are often criticized for either their lack of energy or their frenetic whirl; Ice Age: Continental Drift drifts to the kinetic. But a tale of imminent destruction on the high seas calls for just this kind of hyper energy. Underlying the speedy pace, the visuals are crafted with a mammoth-sized helping of clever; when we first meet Captain Gutt, a Gigantopithecus, we only get a 3D look at humongous yellowing fangs in a three-quarter close-up. Everything in the environment is up for reinvention: a tribe of miniature, guinea pig-like critters turn individual leaves into gliders; adversaries help themselves to old bones and discarded teeth that morph into substantial weaponry; and a prehistoric badger, unfortunately blessed with black and white markings that resemble a Jolly Roger, is forced into serving as the pirate ship's pennant.
The cuts back to Scrat's individual story of survival helps to move the piece along; in particular, a look at the fate of "Scratlantis" is wicked fun. Additional side plots include a fractious dad/daughter conflict with Manny unable to accept the fact that his litte girl is growing up; a romance between Diego and the icy Shira (Jennifer Lopez); and, for the younger audiences, Peaches coming to terms with peer pressure.
The 3D treatment of the high seas and wildly drawn prehistoric creatures is enjoyable, but viewing in 2D will be fine as well. The voices are spot-on as usual, with new additions from Sykes and the aforementioned Dinklage bringing added flavor and comedy to the piece.
The movie may not be earthshaking, but as a respite from those dry-as-a-dinosaur-bone days of summer, this family entertainment is far from beastly.
=====
Rating on a scale of 5 Jurassic classics: 2.5
Release date: July 13, 2012
Directed by: Steve Martino and Mike Thurmeier
Screenplay by: Michael Berg and Jason Fuchs
Story by: Michael Berg and Lori Forte
Voice Cast: Ray Romano, John Leguizamo, Denis Leary, Wanda Sykes, Jennifer Lopez, Queen Latifah, Seann William Scott, Peter Dinklage
Rating: PG
Running Time: 94 minutes